Recurring donations with customizable partner tiers
The ChabadSuite Partners Platform is a one-click setup members platform, with customizable partner tiers and an attractive landing page showing your partner counts, goal progress, and more.
Image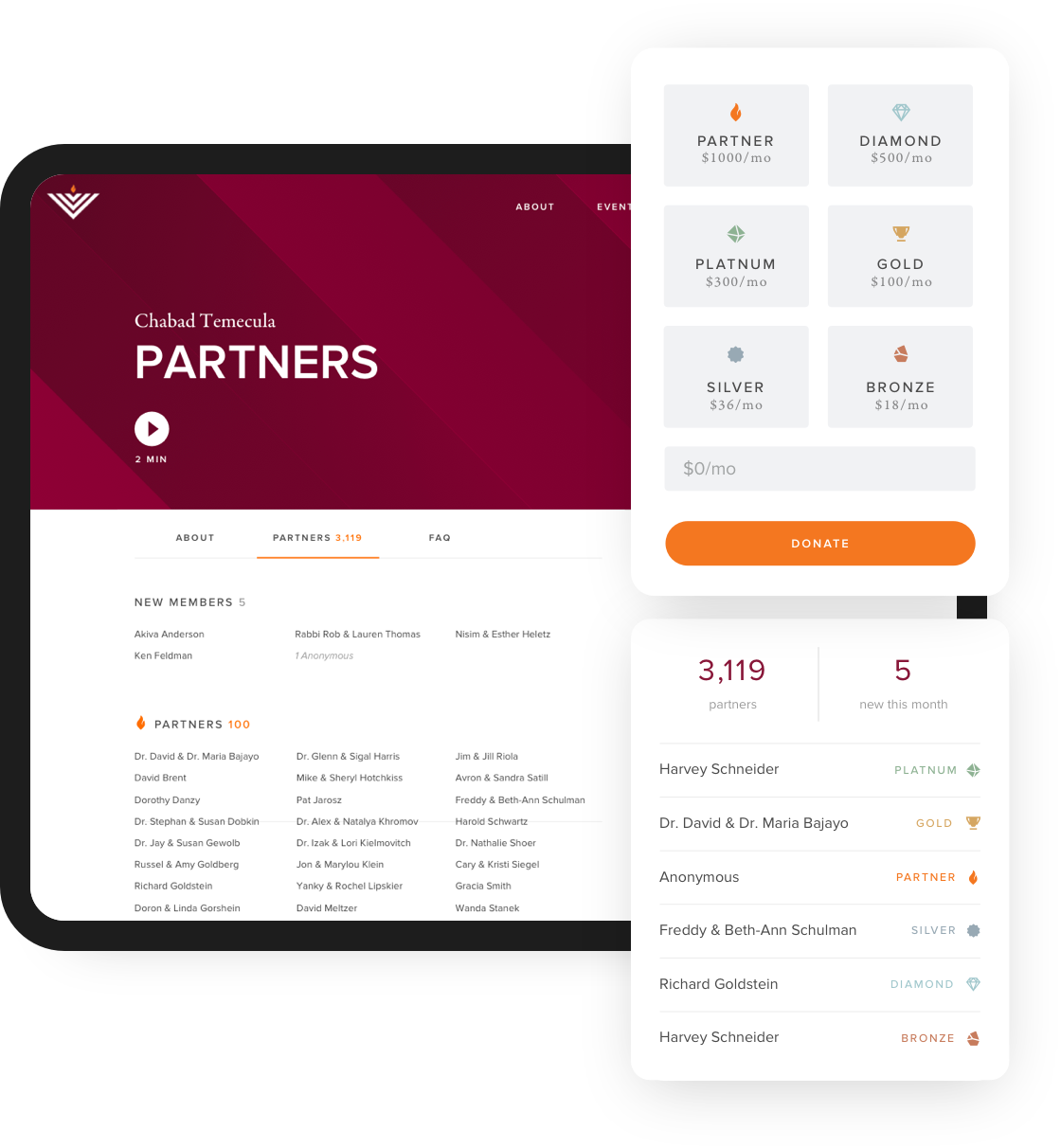 Image

Customizable tiers
Use our 6 partner tiers out of the box, or customize with the amounts and labels that best fit your model
Image

Custom donation amounts
We don't restrict the amount your donors can give. Allow them to give the exact amount they want, and the correct partner level will automatically be applied
Image

Info Section
Customizable section to describe your Partners Program and partner benefits
Image

FAQ Section
Easily post answers to your visitor's common questions about your Partners program
Image

Partners List
Partners are displayed in a list by partner tier, to help showcase and reward those who join.
Image

Stats Display
Displays the number of partners, along with your goal and progress if you choose
Image

Automatic Receipts
Configurable thank you letters are automatically sent to donors, with your branding and your tax id.

Image

AUTO-FILLED FORM
The donation form can auto-populate with the individual donor's information, preventing donor attrition and duplicate CRM contacts.

Image

Beautiful, modern design
State of the art design by Sruly Lipzyc of Chabad Brand

Image

YOUR PROCESSOR, YOUR MONEY
We do not hold your money! Use your own payment processor(s).

Image

YOUR DATA IS YOURS
Your donors are added to your database only. We do not share or use any of your campaign data.

Image

PAYPAL OR CREDIT CARD PAYMENT
Accept donations via PayPal in addition to Credit Card, making it as easy as possible for your visitors to donate.

Image

CRM Sync
Donations and donors are automatically and instantly synced to your CRM.

Image

CUSTOMIZABLE DESIGN
Easily add a custom background image or use our existing background patterns