A powerful hub for all your contact management needs.
Organize, connect with, and automate your contacts, donations, mailings, receipts, events, and much more. Complete with our customized tools for the shaliach.
Image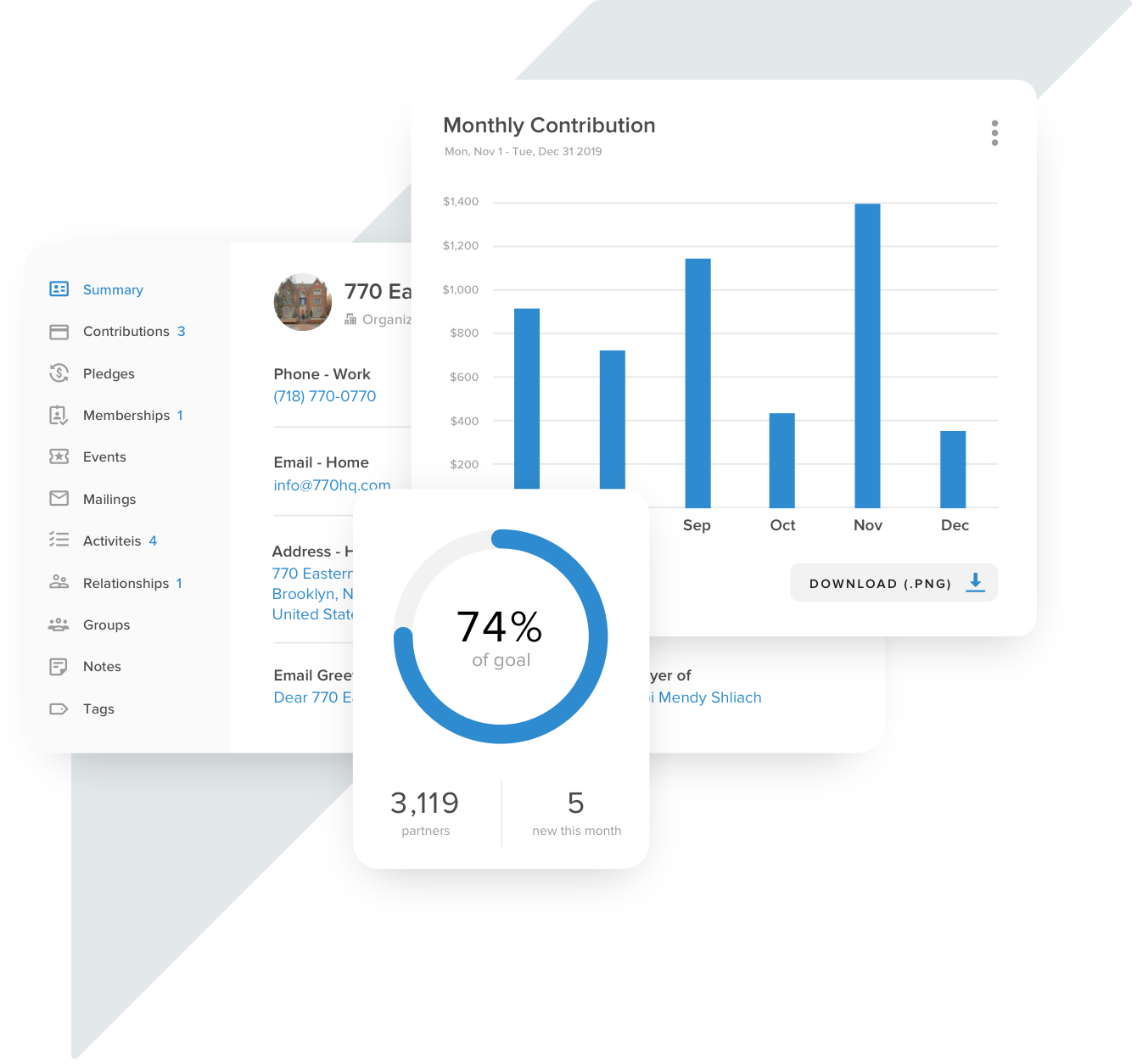 Even more features
Searching and Reporting
Search and filter any data point, including custom fields.
Mass Email
Full-featured mass email system with open/click tracking, unsubscribe/subscribe, A/B testing and more
SMS
Easily send SMS to individual contacts or groups
Payment Forms
Create payment and donations forms
Event forms
Create event forms for contacts to register and pay
Intake Forms
Create intake forms to collect contact information
Hebrew date converter
Convert your birthdays and Yahrzeits from english to Hebrew dates
Event Management
Run event reports, send automatic event reminders, print participant lists, email participants, and more
Automated Report delivery
Your CRM will email you the reports you need on the days you need them, automatically
Membership management
Membership sign up forms, renewal reminders and more
Donation Entry
Record or import donation
Payment Processor integrations
Use Authorize.net, Stripe, and Paypal
Year-end Thank you letter
Print or email year-end thank you letters to donors
Event Registration
Record or import event registration along with event payments
Bookkeeping
Create and export accounting batches to upload to quickbooks
Backups
Your data is backed up daily. Each backup is stored for 60 days.
Member login
Allow you members to login to easily fill out forms or view their dashboard
Member Dashboard
Give members access to view their donation history and other information about their account
Secure
We use SSL, so all your traffic is secure
Multi-level access roles
Allow volunteers or employees to have limited access to your database
Birthday and Yahrzeit form
Allow contacts to send you the birthdays and yahrzeits they observe